Winners Satellite Fellowship Meeting (WSF)
June 3 @ 5:00 pm

-

6:00 pm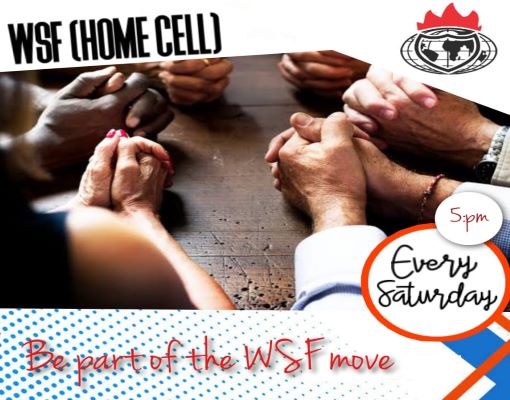 Winners Satellite Fellowship Meeting (WSF)
Our Winners Satellite Fellowship meeting holds on Saturday, the 3rd of  June 2023 at our various WSF meeting homes.
Be a part of this weekly spiritual Fellowship and invite your converts to be a part of this spiritual meeting.
Time: 5:00PM – 6:00PM
---
THE WINNERS SATELLITE FELLOWSHIP
The Winners' Satellite Fellowship (WSF) is the share and care centre for the Winners Family. It is the Home Church where all Winners gather together for a time of spiritual refreshing outside the church environment. It is a Christian Fellowship forum created for caring for every member; "Everyday they continued to meet together in the temple courts.
And they, continuing daily with one accord in the temple, and breaking bread from house to house, did eat their meat with gladness and singleness of heart

Acts 2:46 (KJV).
The WSF fourfold operational agenda includes:
To Care (having a Heart of compassion), To Feed (nourish balanced saints), To Teach (impart knowledge and enlightenment) and To Lead the members (i.e. members' becoming leading leaders).
The WSF brings Jesus to your doorstep with the following results:
Undeniable signs and wonders.
Life-changing experiences.
Christian care and loving interactions.
Destiny-molding teachings and much more in a relaxed environment.
The Winners Satellite Fellowship holds every Saturday in several designated homes around the city. It begins at 5:00 PM and ends at 6:00 PM.